Appleseed - (2004) - Netflix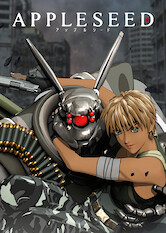 1h45m -
Action & Adventure
How To Unblock Every Movie & TV Show on Netflix No Matter Where You Are
1h45m -
Action & Adventure
A weary warrior finds herself in a battle with a race of artificial humans intent on conquering her utopian city -- and, eventually, the world.
Director:

Mary Elizabeth McGlynn

,

Steven Foster

,

Shinji Aramaki

Cast:

Miho Yamada

,

Yuzuru Fujimoto

,

Asumi Miwa

,

Jurota Kosugi

,

Ai Kobayashi

,

Mami Koyama

,

Yuki Matsuoka

,

Toshiyuki Morikawa

,

Takehito Koyasu

,

Shinji Aramaki

Netflix Rating:

7.0/5
Rotten Tomatoes Score:
25/100
Countries Available in:

Not available where you live? Learn how to unblock Netflix & watch this title.

Available Since:
2020-08-23
Trailer:
Similar Titles:

Synopsis
In a utopian society created at the end of the third world war, a female warrior who has been plucked from the badlands begins to see cracks in this new facade. And what does this community have planned for the rest of humankind?
Other Titles Being Viewed Right Now