Robin-B-Hood - (2006) - Netflix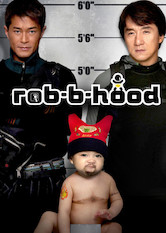 2h6m -
Action & Adventure
How To Unblock Every Movie & TV Show on Netflix No Matter Where You Are
2h6m -
Action & Adventure
Martial arts star Jackie Chan plays a negative character for the first time in this film that casts him as a compulsive gambler caught up in a kidnapping scheme.
Director:

Benny Chan

Cast:

Jackie Chan

,

Biao Yuen

,

Teresa Carpio

,

Conroy Chan

,

Ken Wong

,

Charlene Choi

,

Andrew Lin

,

Terence Yin

,

Yuanyuan Gao

,

Michael Hui

,

Louis Koo

Netflix Rating:

6.7/5
Rotten Tomatoes Score:
0/100
Countries Available in:

Not available where you live? Learn how to unblock Netflix & watch this title.

Available Since:
2019-07-21
Trailer:
Similar Titles:

Synopsis
For never-do-well compulsive gambler Fong, there's only one thing more fearsome than debtors at his doorstep - having to coax a crying baby. But what if the baby becomes his golden goose to fend off his debtors? Can he overcome his phobia of diapers, milk bottles, and cloying lullabies?
Other Titles Being Viewed Right Now