Barney's Great Adventure: The Movie - (1998) - Netflix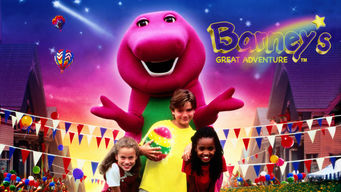 How To Unblock Every Movie & TV Show on Netflix No Matter Where You Are
77 m -
Children & Family
Director:

Steve Gomer

Cast:

Alan Fawcett

,

Jane Wheeler

,

Kyla Pratt

,

Diana Rice

,

Trevor Morgan

,

George Hearn

,

Shirley Douglas

,

Bob West

Netflix Rating:

3.0/5
Rotten Tomatoes Score:
0/100
Countries Available in:

Not available where you live? Learn how to unblock Netflix & watch this title.

Available Since:
01 Jun 2016
Trailer:
Similar Titles:

Synopsis
Mom and dad dump son Cody, daughter Abby, her best friend Marcella and a baby on the farm with Grandpa and Grandma. Purple dinosaur Barney soon appears to entertain kids, and when a large colorful egg deposited on a farm by a shooting star is accidentally carted off, Barney and kids start their chase for it.
Other Titles Being Viewed Right Now