Home2Home - (2020) - Netflix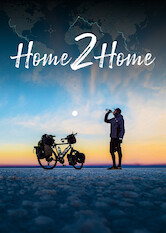 How To Unblock Every Movie & TV Show on Netflix No Matter Where You Are
1h50m -
Sports & Fitness
In this documentary, a young man with a taste for adventure bikes 27,000 miles around the world and encounters people from all walks of life.
Director:

Dennis Kailing

Cast:
-
Netflix Rating:

0.0/5
Rotten Tomatoes Score:
NA
Countries Available in:

Not available where you live? Learn how to unblock Netflix & watch this title.

Available Since:
2022-06-15
Similar Titles:

Synopsis
Home2Home tells the story of Dennis Kailing who travels 43600 km (27000 miles) through 41 countries on 6 continents to circumnavigate the planet in 761 days. He does it on a bicycle - on his first bike journey ever. With the question "What makes you happy" but without experience in bike traveling the 24-year-old from Germany jumps into the deep end and simply sets off - always heading east. He's traveling alone but he's rarely lonely: many encounters with interesting crazy or "completely normal" people give him insights that ordinary tourists rarely experience. While others like a well-structured all inclusive tour this bike tour is a journey into uncertainty. But in the uncertainty hides the biggest adventure - Dennis gradually becomes aware of this. In addition to breathtaking landscapes and a good portion of humor "Home2Home" also shows the unpleasant sides of a long bike trip: never-ending rain in the Andes of South America illness between golden pagodas in Myanmar and loneliness in the endless expanses of the Australian Outback. After 43600 kilometers in 41 countries on 6 continents and the circumnavigation of our planet Dennis is coming back from the west to the place from which he set out to the east two years earlier. In the end he came a little closer to his question 'What makes you happy' - mostly it's just a very simple tiny but completely natural thing.
Other Titles Being Viewed Right Now