From Russia with Cash - (2015) - Netflix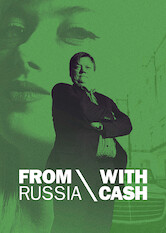 How To Unblock Every Movie & TV Show on Netflix No Matter Where You Are
48m -
Crime Movies
In this documentary, watch realtors react to a reporter posing as a corrupt Russian buyer to expose the money laundering behind London's property boom.
Director:

Dan Reed

Cast:
-
Netflix Rating:

6.2/5
Rotten Tomatoes Score:
NA
Countries Available in:

Not available where you live? Learn how to unblock Netflix & watch this title.

Available Since:
2022-05-07
Similar Titles:

Synopsis
With increasing evidence that London's property boom is being partly fuelled by overseas buyers laundering money From Russia with Cash uses secret filming and an undercover reporter posing as a Russian government minister to investigate how estate agents react to his plan to use millions of pounds of stolen money to purchase a high end property.
Other Titles Being Viewed Right Now