Four Points - (2021) - Netflix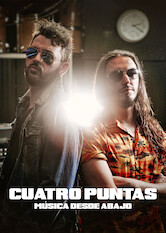 1h24m -
Music & Musicals
How To Unblock Every Movie & TV Show on Netflix No Matter Where You Are
1h24m -
Music & Musicals
In this documentary, longtime friends Raúl "La Cofia" and José "El Dos" of Frutas y Verduras and Melancrónico fame dive into recording a new album.
Director:

Pablo Aragüés

Cast:
-
Netflix Rating:

0.0/5
Rotten Tomatoes Score:
NA
Countries Available in:

Not available where you live? Learn how to unblock Netflix & watch this title.

Available Since:
2022-06-06
Similar Titles:

Synopsis
Four average citizens have been selected by the newly elected tech-genius President of the United States to participate in a game that will determine the policy of the new administration. Will they win hundreds of thousands of dollars and guide the future of the country or will their differences cost them everything?
Other Titles Being Viewed Right Now