One Shot - (2021) - Netflix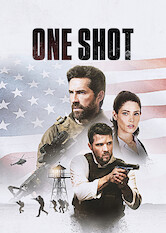 1h36m -
Action & Adventure
How To Unblock Every Movie & TV Show on Netflix No Matter Where You Are
1h36m -
Action & Adventure
A CIA analyst and a squad of Navy SEALs attempt to remove a man from an island prison — but become trapped there when insurgents attack.
Director:

James Nunn

Cast:

Scott Adkins

,

Ashley Greene

,

Ryan Phillippe

,

Emmanuel Imani

,

Dino Kelly

,

Jack Parr

,

Waleed Elgadi

,

Terence Maynard

,

Jess Liaudin

,

Andrei Maniata

,

Lee Charles

Netflix Rating:

5.5/5
Rotten Tomatoes Score:
59/100
Countries Available in:

Not available where you live? Learn how to unblock Netflix & watch this title.

Available Since:
2022-04-02
Trailer:
Similar Titles:

Synopsis
An elite squad of Navy SEAL's on a covert mission to transport a prisoner off a CIA black site island prison are trapped when insurgents attack while trying to rescue the same prisoner.
Other Titles Being Viewed Right Now