One Step Beyond - (2012) - Netflix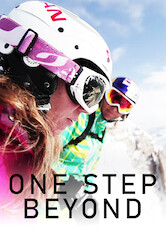 How To Unblock Every Movie & TV Show on Netflix No Matter Where You Are
57m -
Sports & Fitness
Follow snowboarder and base jumper Géraldine Fasnacht as she tackles breathtaking descents and wingsuit flights and navigates a personal tragedy.
Director:

Sèbastien Montaz-Rosset

Cast:
-
Netflix Rating:

7.8/5
Rotten Tomatoes Score:
NA
Countries Available in:

Not available where you live? Learn how to unblock Netflix & watch this title.

Available Since:
2022-06-18
Similar Titles:

Synopsis
Produced at the same time as the more well-known The Twilight Zone (1959) this series was an extension of the tradition of radio horror and supernatural dramas such as Light's Out The Mysterious Traveler and The Witches Tale. As with the Twilight Zone and the radio programs each tale was book-ended by an introduction and conclusion by a host. However rather than creating fictional stories with supernatural twists and turns this program sought out "real" stories of the supernatural including ghosts disappearances monsters and the like re-creating them for each episode. No solutions to these mysteries were ever found and viewers could only scratch their heads and wonder "what if it's real?"
Other Titles Being Viewed Right Now