e-Life - (2017) - Netflix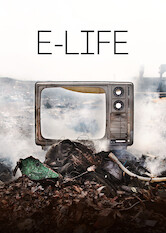 52m -
Science & Nature Documentaries
How To Unblock Every Movie & TV Show on Netflix No Matter Where You Are
52m -
Science & Nature Documentaries
Where do outdated electronics end up? This documentary exposes the poorly regulated industry of e-waste exportation from Western countries to Africa.
Director:

Ed Scott-Clarke

Cast:

Christopher Judge

Netflix Rating:

0.0/5
Rotten Tomatoes Score:
NA
Countries Available in:

Not available where you live? Learn how to unblock Netflix & watch this title.

Available Since:
2022-07-23
Similar Titles:

Synopsis
Computers smart phones and tablets are now a part of our daily lives. They have revolutionised the way we work the way we communicate and the way we view the world. But what happens to our old phone when we upgrade? Where does our broken computer go after we throw it out? e-Life explores what happens to our electrical goods when we throw them away and exposes some unpleasant (and perhaps unknown) truths about the detrimental affects e-waste has on people's health the environment and the economy. From consumers in the UK to the recyclers in the dumps of Ghana the documentary will follow the journey of our e-waste. We will examine current manufacturing and disposal processes and also assess the burden the boom in electronic goods is placing on global resources. e-Life will be an objective portrayal of the problem of ewaste that documents the issue through carefully crafted cinematography.
Other Titles Being Viewed Right Now