Stravinsky: Once at a Border... - (1982) - Netflix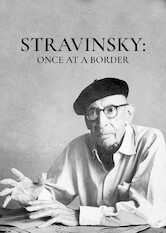 2h45m -
Music & Musicals
How To Unblock Every Movie & TV Show on Netflix No Matter Where You Are
2h45m -
Music & Musicals
The life and work of preeminent composer Igor Stravinsky takes center stage in this documentary from acclaimed filmmaker Tony Palmer.
Director:

Tony Palmer

Cast:
-
Netflix Rating:

8.2/5
Rotten Tomatoes Score:
NA
Countries Available in:

Not available where you live? Learn how to unblock Netflix & watch this title.

Available Since:
2022-05-29
Similar Titles:

Synopsis
This autobiographical film about the most important and influential composer of the 20th century includes documents photographs and film never seen publicly before. Stravinsky's three surviving children talk about their father and there are contributions from the late Madame Vera Stravinsky his music associate Robert Craft Marie Rambert Balanchine Nadia Boulanger and many friends. Included in the film are important performances: Les Noces has never before been heard in this its original form and the choreography of Petrushka was specially recreated for the film by the Bolshoi and was not seen in this form since 1911. Finally there is priceless film of Stravinsky himself in this unique film.
Other Titles Being Viewed Right Now