Chhota Bheem and the ShiNobi Secret - (2013) - Netflix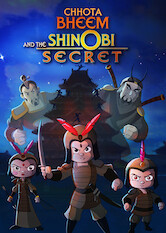 1h3m -
Children & Family Movies
How To Unblock Every Movie & TV Show on Netflix No Matter Where You Are
1h3m -
Children & Family Movies
After learning of a samurai village under threat by their own emperor, Bheem sets off for Japan to offer his help.
Director:

Rajiv Chilaka

Cast:

Vatsal Dubey

,

Julie Tejwani

,

Rupa Bhimani

,

Jigna Bhardwaj

,

Rajesh Kava

,

Mousam

,

Swapnil

Netflix Rating:

0.0/5
Rotten Tomatoes Score:
NA
Countries Available in:

Not available where you live? Learn how to unblock Netflix & watch this title.

Available Since:
2021-07-22
Similar Titles:

Synopsis
Prof. Dhoomketu is trying to build a new machine based on how a volcano works. Dholu and Bholu mess around which gives Kalia a new 'smoking' hairdo. As Bheem and Chutki try to restore the machine Indumati arrives in with Bheem's Samurai friend Sam. Jack relates that his entire clan in Iga Japan is under threat from an unseen enemy. The youngsters of his village are disappearing at an alarming rate and efforts to trace them are coming to naught. Further their king has been threatened by the cruel Emperor Hidoi Shin. The samurai of Sam's village are loyal to the king and lead his army but the disappearance of the good fighters has now put them at a disadvantage. Sam's grandfather talks about the lurking of a secret shadow but time is running out. Bheem and gang travel to Japan with Jack to save his clan and solve the Shinobi secret.
Other Titles Being Viewed Right Now