The Bees and the Birds - (2018) - Netflix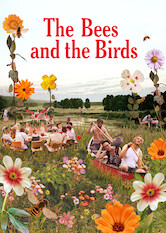 1h31m -
Science & Nature Documentaries
How To Unblock Every Movie & TV Show on Netflix No Matter Where You Are
1h31m -
Science & Nature Documentaries
Seeking a simpler life, a family moves out of Berlin and into the country, beginning a journey with unexpected impact as captured in this documentary.
Director:

Lola Randl

Cast:
-
Netflix Rating:

6.0/5
Rotten Tomatoes Score:
NA
Countries Available in:

Not available where you live? Learn how to unblock Netflix & watch this title.

Available Since:
2021-07-01
Similar Titles:

Synopsis
THE BEES AND THE BIRDS explores the soul seeking adventure of a family moving from Berlin to the countryside looking for the simple life and finding questions and answers on how we define work love and family nowadays.
Other Titles Being Viewed Right Now