Copshop - (2022) - Netflix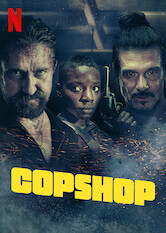 How To Unblock Every Movie & TV Show on Netflix No Matter Where You Are
1h47m -
Crime Movies
Bullets fly and blood splatters at a small-town police station when a rookie cop unwittingly locks a contract killer in the cell opposite his target.
Director:

Joe Carnahan

Cast:

Gerard Butler

,

Frank Grillo

,

Alexis Louder

,

Toby Huss

,

Chad L. Coleman

,

Ryan O'Nan

,

Jose Pablo Cantillo

Netflix Rating:

6.2/5
Rotten Tomatoes Score:
82/100
Countries Available in:

Not available where you live? Learn how to unblock Netflix & watch this title.

Available Since:
2022-01-14
Trailer:
Similar Titles:

Synopsis
Screaming through the Nevada desert in a bullet-ridden Crown Vic wily con artist Teddy Murretto (Frank Grillo) hatches a desperate plan to hide out from lethal hitman Bob Viddick (Gerard Butler): He sucker-punches rookie officer Valerie Young (Alexis Louder) to get himself arrested and locked up in a small-town police station. But jail can't protect Murretto for long. Viddick schemes his own way into detention biding his time in a nearby cell until he can complete his mission. When the arrival of a competing assassin (Toby Huss) ignites all-out mayhem mounting threats force Viddick to get creative if he wants to finish the job and escape the explosive situation.
Other Titles Being Viewed Right Now