She Got Game - (2015) - Netflix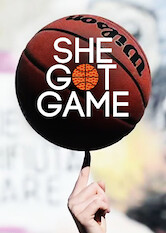 How To Unblock Every Movie & TV Show on Netflix No Matter Where You Are
1h4m -
Sports & Fitness
In this documentary, professional players in Italian women's basketball discuss femininity, gender stereotypes and challenges on and off the court.
Director:

Silvia Gottardi

Cast:
-
Netflix Rating:

7.5/5
Rotten Tomatoes Score:
NA
Countries Available in:

Not available where you live? Learn how to unblock Netflix & watch this title.

Available Since:
2021-10-29
Similar Titles:

Synopsis
They play to packed stadiums wherever they go. Their sex appeal and personal dramas make headlines around the world. But behind the cover girl smiles and million dollar contracts lies another dramatic story. Shot in Cinema Verite style and told by the players themselves SHE GOT GAME: Coming of Age on the Women's Tennis Tour goes behind-the-scenes on the WTA (Women's Tennis Association) Tour and chronicles the challenges upsets and successes of its young international tennis stars. The film travels to Montreal Toronto Moscow Munich Sydney Melbourne and South Carolina and uncovers the personal price that must be paid in a world where winning is everything.
Other Titles Being Viewed Right Now