Spandex sapiens - (2016) - Netflix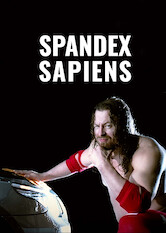 How To Unblock Every Movie & TV Show on Netflix No Matter Where You Are
1h26m -
Sports & Fitness
In this documentary, conservative pro wrestler Michael Majalahti goes up against Jessica Love, a young and liberal trans woman in his wrestling company.
Director:

Oskari Pastila

Cast:

Michael Majalahti

,

Jessica Love

Netflix Rating:

6.3/5
Rotten Tomatoes Score:
NA
Countries Available in:

Not available where you live? Learn how to unblock Netflix & watch this title.

Available Since:
2021-09-17
Trailer:
Similar Titles:

Synopsis
Lonely son of a Canadian preacher man Michael builds the first professional wrestling company in faraway Finland. Young transsexual wrestler Jessica infiltrates into the company contesting Michael both physically and ideologically. Anger and frustration get to Michael who is now 40 years old still looking for companion. He is looking for love but first must learn not to hate. As Michael finds true love online he redefines his values and reinvents himself as a wrestler in love.
Other Titles Being Viewed Right Now