The Great Gambler - (1979) - Netflix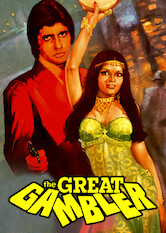 2h41m -
Action & Adventure
2h41m -
Action & Adventure
After unwittingly using his skills to obtain military secrets, a gambler is pursued by a police officer who happens to be his doppelgänger.
Director:

Shakti Samanta

Cast:

Sujit Kumar

,

Roopesh Kumar

,

Prem Chopra

,

Utpal Dutt

,

Iftekhar

,

Om Shivpuri

,

Zeenat Aman

,

Neetu Singh

,

Amitabh Bachchan

,

Madan Puri

Netflix Rating:

6.7/5
Rotten Tomatoes Score:
0/100
Countries Available in:

Not available in your region? Sign up for ExpressVPN to unblock Netflix!

Available Since:
2019-12-31
Similar Titles:

Synopsis
Jai (Amitabh Bachchan) is an expert gambler, and has been so as long as he can remember, and has never lost a game. These skills bring him to the attention of the underworld don Saxena (Utpal Dutt), who is interested in hiring him for winning large amounts of money from rich people and then influencing them into doing whatever he wants. Jai agrees to do so, and plays successfully, though unknowingly to entrap a patriotic Indian named Nath (Jagdish Raj) who works for the government. After losing large amounts of money, he is blackmailed into revealing the blueprints of a top-secret military laser weapon that hit any target within 50 miles. When the Indian police come to know of this, they assign the case to Inspector Vijay, who is asked to apprehend Jai at any cost. The only problem is that Inspector Vijay is Jai's look-alike, and is not at all a good gambler. After this Jai and Vijay's professional and personal lives get confusingly mixed up as Jai and Vijay both coincidentally are sent to Rome where Vijay is sent to retrieve evidence against underworld don Saxena and Jai is onto a money-making scheme where he would marry his rich girlfriend Mala (Neetu Singh) to inherit her money. Mala however mistakens Vijay for Jai and Vijay decides to go along with this to find out who his double is. Jai meanwhile meets Shabnam (Zeenat Aman), a club dancer who mistakens Jai for Vijay and is working for a spy ring. She has been sent to seduce Vijay and stop him on his mission to retrieve evidence against the underworld don Saxena and Jai is only more willing to have a little fun before he sets about on his latest money-making scheme.
Other Titles Being Viewed Right Now