Iron Sky: The Coming Race - (2019) - Netflix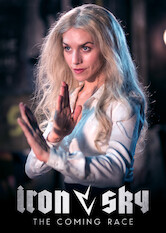 1h32m -
Action & Adventure
1h32m -
Action & Adventure
Decades after a nuclear war, survivors on the moon revisit Earth to locate a potential power source -- and find shape-shifting reptiles instead.
Director:

Timo Vuorensola

Cast:

Lara Rossi

,

Vladimir Burlakov

,

Kit Dale

,

Julia Dietze

Netflix Rating:

5.0/5
Rotten Tomatoes Score:
0/100
Countries Available in:

Not available in your region? Sign up for ExpressVPN to unblock Netflix!

Available Since:
2019-11-16
Trailer:
Similar Titles:

Synopsis
Twenty years after the events of Iron Sky, the former Nazi Moonbase has become the last refuge of mankind. Earth was devastated by a nuclear war, but buried deep under the wasteland lies a power that could save the last of humanity - or destroy it once and for all. The truth behind the creation of mankind will be revealed when an old enemy leads our heroes on an adventure into the Hollow Earth. To save humanity they must fight the Vril, an ancient shapeshifting reptilian race and their army of dinosaurs.
Other Titles Being Viewed Right Now