The Brave - (2019) - Netflix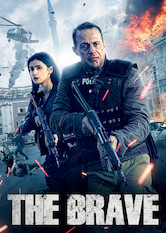 1h43m -
Action & Adventure
How To Unblock Every Movie & TV Show on Netflix No Matter Where You Are
1h43m -
Action & Adventure
With entry into the European Union at stake, Albania must rely on a mash-up of elite cops to take down a slippery drug lord dominating its economy.
Director:

William Kaufman

Cast:

Ervin Bejleri

,

Ravshana Kurkova

,

Louis Mandylor

,

Igor Jijikine

,

Yuriy Kutsenko

,

Bessart Kallaku

,

Armand Assante

,

Ivan Makarevich

Netflix Rating:

5.3/5
Rotten Tomatoes Score:
0/100
Countries Available in:

Not available where you live? Learn how to unblock Netflix & watch this title.

Available Since:
2020-01-15
Similar Titles:

Synopsis
An action thriller based on true life events set in Europe, specifically in the heart of Albania. A film that will surely leave movie goers on the edge of their seats. Viewers will be transported to the underbelly world of narcotics, crime, deceit, infamy, and danger lurking on every corner.
Other Titles Being Viewed Right Now