White Chamber - (2018) - Netflix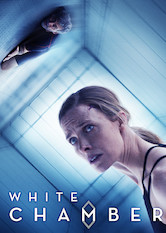 How To Unblock Every Movie & TV Show on Netflix No Matter Where You Are
1h29m -
Sci-Fi & Fantasy
When a civil war ravages the UK, a scientist awakens in a futuristic cell and is tortured by her captor for information she claims she doesn't possess.
Director:

Paul Raschid

Cast:

Sumit Chakravarti

,

Shauna MacDonald

,

Adrianna Edwards

,

Marcus Griffiths

,

Sharon Maughan

,

Oded Fehr

,

Candis Nergaard

,

Nicholas Farrell

,

Amrita Acharia

,

Lisa Reynolds

Netflix Rating:

4.4/5
Rotten Tomatoes Score:
0/100
Countries Available in:

Not available where you live? Learn how to unblock Netflix & watch this title.

Available Since:
2019-08-01
Trailer:
Similar Titles:

Synopsis
The United Kingdom. Soon. Civil war rages. A woman wakes up in a blindingly white cuboid cell. Using its sophisticated functionality, her captor tortures her for information; information she claims not to have - or does she?
Other Titles Being Viewed Right Now