Sniper: Ultimate Kill - (2017) - Netflix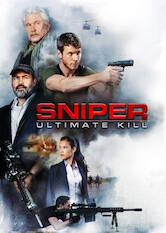 1h33m -
Action & Adventure
How To Unblock Every Movie & TV Show on Netflix No Matter Where You Are
1h33m -
Action & Adventure
When a Colombian drug kingpin takes over the smuggling routes to the U.S., a Marine sniper teams with a federal agent to take him and his cartel down.
Director:

Claudio Fah

Cast:

Tom Berenger

,

Billy Zane

,

Joe Lando

,

Danay Garcia

,

Luis Alfredo Velasco

,

Felipe Calero

,

Jaime Correa

,

Chad Michael Collins

Netflix Rating:

5.7/5
Rotten Tomatoes Score:
0/100
Countries Available in:

Not available where you live? Learn how to unblock Netflix & watch this title.

Available Since:
2019-04-01
Trailer:
Similar Titles:

Synopsis
Colombian drug kingpin Jesús Morales secretly pays for the services of a sniper nicknamed 'The Devil,' capable of killing one-by-one the enemies of anyone who hires him. With no adversaries left alive, Morales grows stronger and gains control of more smuggling routes into the United States. The DEA, alarmed by this threat to the country, sends agent Kate Estrada, who has been following Morales ...
Other Titles Being Viewed Right Now