Gatao 2: Rise of the King - (2018) - Netflix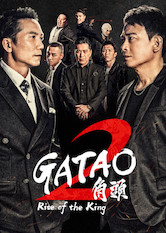 2h6m -
Action & Adventure
How To Unblock Every Movie & TV Show on Netflix No Matter Where You Are
2h6m -
Action & Adventure
When a zealous gang leader plans to take out a friend-turned-rival for control of his turf, internal tensions complicate the battle to be the boss.
Director:

Cheng-Kuo Yen

,

Yen Cheng-kuo

Cast:

Jason Wang

,

Collin Chou

,

Jack Kao

,

Lu Hsueh-feng

,

Peng Sun

,

Tsai Chen-nan

,

Shih-Sian Wang

,

Chen-Nan Tsai

Netflix Rating:

6.1/5
Rotten Tomatoes Score:
0/100
Countries Available in:

Not available where you live? Learn how to unblock Netflix & watch this title.

Available Since:
2019-05-09
Trailer:
Similar Titles:

Synopsis
Ren has finally succeeded his boss as the head of the North Fort Gang. For so long, his ambitions had been held back; now, he can realize them. But the ruthless Jian returns with his own ...
Other Titles Being Viewed Right Now