The Myth - (2005) - Netflix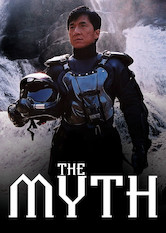 2h0m -
Action & Adventure
How To Unblock Every Movie & TV Show on Netflix No Matter Where You Are
2h0m -
Action & Adventure
Troubled by recurring dreams of a Korean princess, an archaeologist embarks on an adventure that sheds light on his past life as a Qin Dynasty general.
Director:

Stanley Tong

Cast:

Shao Bing

,

Ken Lo

,

Mallika Sherawat

,

Kim Hee-seon

,

Patrick Tam

,

Choi Min-soo

,

Jackie Chan

,

Tony Leung Ka Fai

,

Bing Shao

,

Weixing Yao

,

Jianzhong Zhang

Netflix Rating:

6.2/5
Rotten Tomatoes Score:
0/100
Countries Available in:

Not available where you live? Learn how to unblock Netflix & watch this title.

Available Since:
2019-03-16
Trailer:
Similar Titles:

Synopsis
Martial arts legend Jackie Chan stars as Jack, a world-renowned archaeologist who has begun having mysterious dreams of a past life as a warrior in ancient China. When a fellow scientist enlists his help locating the mausoleum of China's first emperor, the past collides violently with the present as Jack discovers his amazing visions are based in fact. Assisted by the spirit of a noble princess...
Other Titles Being Viewed Right Now