Ruben Brandt, Collector - (2018) - Netflix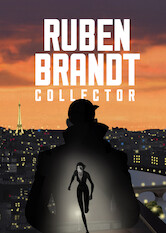 1h33m -
Action & Adventure
How To Unblock Every Movie & TV Show on Netflix No Matter Where You Are
1h33m -
Action & Adventure
In this artfully animated thriller, a psychotherapist enlists creative thieves to steal the priceless paintings that are haunting his dreams.
Director:

Milorad Krstic

Cast:

Csaba Marton

,

Luca Bercovici

,

Matt Devere

,

Gabriella Hamori

,

Henry Grant

,

Butch Engle

,

Christian Nielson Buckholdt

,

Paul Bellantoni

,

Ivan Kamaras

,

Katalin Dombi

,

Zalan Makranczi

Netflix Rating:

7.5/5
Rotten Tomatoes Score:
0/100
Countries Available in:

Not available where you live? Learn how to unblock Netflix & watch this title.

Available Since:
2019-11-28
Trailer:
Similar Titles:

Synopsis
Four expert thieves attempt to steal every famous artwork that is haunting their mutual psychotherapist. A detective attempts to find out who the 'Collector' is.
Other Titles Being Viewed Right Now