Two Thumbs Up - (2015) - Netflix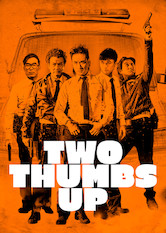 1h42m -
Action & Adventure
How To Unblock Every Movie & TV Show on Netflix No Matter Where You Are
1h42m -
Action & Adventure
A small-time crook and his eccentric buddies scheme to rob a money-smuggling truck -- if a gang of pros doesn't beat them to it first.
Director:

Ho Leung Lau

,

Lau Ho-Leung

Cast:

Susan Yam-Yam Shaw

,

Simon Yam

,

Mark Cheng

,

Leo Ku

,

Patrick Tam

,

Francis Chun-Yu Ng

,

Francis Ng

Netflix Rating:

6.3/5
Rotten Tomatoes Score:
0/100
Countries Available in:

Not available where you live? Learn how to unblock Netflix & watch this title.

Available Since:
2019-08-24
Similar Titles:

Synopsis
Big F, who's just gotten out of prison, wastes no time in tracking down his old comrades, picking up bowling alley employee Crazy B, back-alley hairstylist Johnny T and mechanic East L in quick succession. As it turns out, Big F wants to rob a truck transporting dirty money across the Mainland-Hong Kong border, and to do that, the gang's got to pose as police officers. On the day of the heist, the men set off in their minibus-turned-police-vehicle dressed as cops and armed with BB guns. What they don't know is that another group of criminals also has its sights set on the truck and those people have AK-47s.
Other Titles Being Viewed Right Now