Tattah - (2013) - Netflix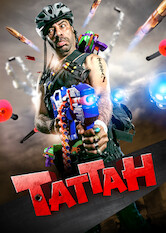 1h51m -
Comedies
A down-on-his-luck man must prove he's not as hapless as he seems when the woman he's on a date with is suddenly kidnapped.
Director:

Sameh Abdelaziz

,

Sameh Abdulaziz

Cast:

Sayed Rajab

,

Marwa

,

Dolly Shahin

,

Mohamed Saad

,

Omar Mustafa Metwally

,

Hayatem

,

Nabil Issa

,

Ragaa Al-Geddawy

,

Samir Ghanem

,

Samy Maghawry

,

Ragaa Al-Gidawy

,

Bousy

,

Nabil Eissa

Netflix Rating:

5.0/5
Rotten Tomatoes Score:
0/100
Countries Available in:

Not available in your region? Sign up for ExpressVPN to unblock Netflix!

Available Since:
2019-05-09
Similar Titles:

Synopsis
A young poor guy who sell newspapers for a living, and his nephew who lives with him gets to be taught how to use a computer and browse the Internet and communicate with others. Soon enough, he got to know a girl that was later on kidnapped, so tries to save her.
Other Titles Being Viewed Right Now