Bride For Rent - (2014) - Netflix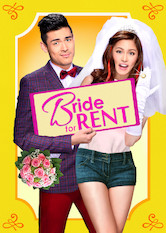 1h50m -
Comedies
Rocco needs to hire a bride so he can access his trust fund. Rocky desperately needs a job. Their marriage starts out fake, but ends up as much more.
Director:

Mae Czarina Cruz

Cast:

Pilita Corrales

,

Dennis Padilla

,

Zeppi Borromeo

,

Tirso Cruz III

,

Xian Lim

,

Kim Chiu

,

Empoy Marquez

,

Lloyd Zaragoza

,

Matt Evans

,

Martin del Rosario

Netflix Rating:

6.4/5
Rotten Tomatoes Score:
0/100
Countries Available in:

Not available in your region? Sign up for ExpressVPN to unblock Netflix!

Available Since:
2019-02-27
Similar Titles:

Synopsis
Rocco Espiritu (Xian Lim) and Rocky Espiritu (Kim Chiu) have one thing in common: they are both in need of money, fast. On the eve of his 25th birthday and the day he is set to receive money from his trust fund, Rocco parties, gets drunk, and loses all his money on a poker match. Now he has to produce the amount or else lose the client he needs to defeat his father's TV commercials production company. Meanwhile, Rocky needs to pay the rent or else, her whole family will be homeless. The only way for Rocco to get the money from his trust fund is to fulfill the conditions set by his grandmother: that is, to get married. That's when he meets Rocky who agrees to act as his pseudo wife in exchange of a big 'talent fee.' With Rocco's tempting offer and Rocky's need for money, the two seal the deal. As Rocky and Rocco go through their married life, problems come one after another and thus, they are forced to reconcile their differences and work with each other. However, the real complication begins when feelings start to grow between the two of them. Will they be able to make their agreement work or will they be a victim of their own scheme and turn their whole pretense into something real?
Other Titles Being Viewed Right Now