Manta Manta - (1991) - Netflix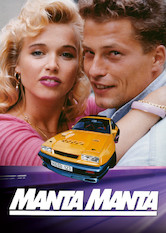 1h26m -
Action & Adventure
How To Unblock Every Movie & TV Show on Netflix No Matter Where You Are
1h26m -
Action & Adventure
A street racer and his beloved Opel Manta compete in a high-stakes race as he tries to keep a slick Ferrari owner from stealing his girlfriend.
Director:

Wolfgang Buld

Cast:

Sabine Berg

,

Beatrice Manowski

,

Tina Ruland

,

Michael Kessler

,

Til Schweiger

,

Omer Simsek

,

Uwe Fellensiek

,

Nadja Naidenow

,

Martin Armknecht

,

Stefan Gebelhoff

,

Lena Sabine Berg

Netflix Rating:

5.6/5
Rotten Tomatoes Score:
0/100
Countries Available in:

Not available where you live? Learn how to unblock Netflix & watch this title.

Available Since:
2019-04-01
Similar Titles:

Synopsis
Proud German owners of Opel Manta's race the streets against VW's and Mercedes. They decide to set up a real race with lots of money involved.
Other Titles Being Viewed Right Now