Gone Are The Days - (2018) - Netflix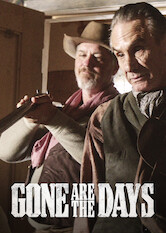 1h39m -
Independent Movies
How To Unblock Every Movie & TV Show on Netflix No Matter Where You Are
1h39m -
Independent Movies
As a notorious outlaw comes to grips with his past, he reconnects with his estranged daughter and gets one more shot to make things right.
Director:

Mark Landre Gould

Cast:

Tom Berenger

,

Meg Steedle

,

Danny Trejo

,

Lance Henriksen

,

Billy Lush

,

Jamie McShane

,

Steve Railsback

,

Lulu Wilson

Netflix Rating:

5.1/5
Rotten Tomatoes Score:
59/100
Countries Available in:

Not available where you live? Learn how to unblock Netflix & watch this title.

Available Since:
2021-07-02
Trailer:
Similar Titles:

Synopsis
1908. In the fading twilight of the Old West, Taylon Flynn, a once feared outlaw now forgotten and rendered obsolete by the passage of time, wastes away in virtual anonymity on a decrepit ranch. Unable to reconcile the man he was with the man he has become, he summons an old accomplice for one last ride in a desperate attempt to seek redemption for the error of his ways; a daughter he abandoned, a friend he left for dead, and a wife brutally murdered for his crimes. Determined to extract his revenge with boots on and guns blazing, Taylon's vengeance ride is quickly derailed by the ruthless boss of a dying mining town and a legendary lawman harboring a dark secret. With his last chance at redemption rapidly escaping, Taylon must confront the inner demons he purged long ago and truly atone for his past sins in order to save his soul and the one thing in life that he truly loves.
Other Titles Being Viewed Right Now