Occupation - (2018) - Netflix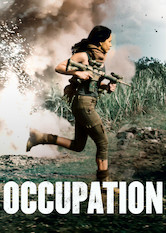 How To Unblock Every Movie & TV Show on Netflix No Matter Where You Are
1h59m -
Sci-Fi & Fantasy
When aliens take over their small Australian town, a modest group of survivors must unite to fend off their otherworldly intruders.
Director:

Luke Sparke

Cast:

Jacqueline McKenzie

,

Bruce Spence

,

Charles Terrier

,

Temuera Morrison

,

Daniel Ewing

,

Zachary Garred

,

Felix Williamson

,

Charles Mesure

,

Stephanie Jacobsen

,

Rhiannon Fish

,

Izzy Stephens

,

Aaron Jeffery

,

Dan Ewing

,

Stephany Jacobsen

Netflix Rating:

5.3/5
Rotten Tomatoes Score:
0/100
Countries Available in:

Not available where you live? Learn how to unblock Netflix & watch this title.

Available Since:
2019-08-20
Trailer:
Similar Titles:

Synopsis
A small group of town residents have to band together after a devastating ground invasion. As they struggle to survive, they realize they must stay one step ahead of their attackers, and work together for a chance to strike back.
Other Titles Being Viewed Right Now