Warning Shot - (2018) - Netflix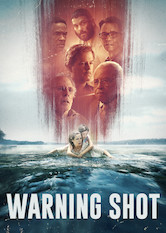 1h26m -
Thrillers
A hostage situation spirals out of control after two thugs kidnap a single mother and her daughter and attempt to extort them.
Director:

Dustin Fairbanks

Cast:

Steve Eastin

,

Guillermo Diaz

,

Bruce Dern

,

Tammy Blanchard

,

James Earl Jones

,

Frank Whaley

,

Onata Aprile

,

Niki Koss

,

David Spade

,

Dwight Henry

Netflix Rating:

5.3/5
Rotten Tomatoes Score:
0/100
Countries Available in:

Not available in your region? Sign up for ExpressVPN to unblock Netflix!

Available Since:
2019-09-07
Trailer:
Similar Titles:

Synopsis
A single mother and her young daughter struggling to make ends meet until they inherit a farmhouse from their grandfather. When a family business rival sends armed men to take the water rights to the farm's creek by force, the situation spirals out of control.
Other Titles Being Viewed Right Now