Kate & Leopold - (2021) - Netflix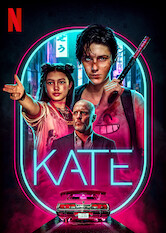 1h46m -
Action & Adventure
How To Unblock Every Movie & TV Show on Netflix No Matter Where You Are
1h46m -
Action & Adventure
Slipped a fatal poison on her final job, a ruthless assassin working in Tokyo has less than 24 hours to find out who ordered the hit and exact revenge.
Director:

Cedric Nicolas-Troyan

Cast:

Mary Elizabeth Winstead

,

Jun Kunimura

,

Woody Harrelson

,

Tadanobu Asano

,

Miyavi

,

Michiel Huisman

,

Miku Martineau

Netflix Rating:

6.4/5
Rotten Tomatoes Score:
NA
Countries Available in:

Not available where you live? Learn how to unblock Netflix & watch this title.

Available Since:
2021-09-11
Trailer:
Similar Titles:

Synopsis
Kate and her actor brother live in N.Y. in the 21st Century. Her ex-boyfriend Stuart lives above her apartment. Stuart finds a space near the Brooklyn Bridge where there is a gap in time. He goes back to the 19th Century and takes pictures of the place. Leopold -- a man living in the 1870s -- is puzzled by Stuart's tiny camera follows him back through the gap and they both ended up in the present day. Leopold is clueless about his new surroundings. He gets help and insight from Charlie who thinks that Leopold is an actor who is always in character. Leopold is a highly intelligent man and tries his best to learn and even improve the modern conveniences that he encounters.
Other Titles Being Viewed Right Now