Rogue Warfare - (2019) - Netflix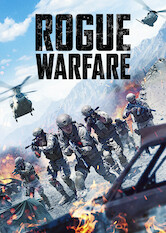 1h42m -
Action & Adventure
How To Unblock Every Movie & TV Show on Netflix No Matter Where You Are
1h42m -
Action & Adventure
An elite international squad of uniquely skilled special forces is assembled to combat a rising underground terrorist threat in the Middle East.
Director:

Mike Gunther

Cast:

Katie Keene

,

Gina DeCesare

,

Chris Mulkey

,

Jermaine Love

,

Stephen Lang

,

Bertrand-Xavier Corbi

,

Michael Blalock

,

Rory Markham

,

Fernando Chien

,

Will Yun Lee

Netflix Rating:

2.8/5
Rotten Tomatoes Score:
0/100
Countries Available in:

Not available where you live? Learn how to unblock Netflix & watch this title.

Available Since:
2020-03-28
Trailer:
Similar Titles:

Synopsis
A group of the best military personnel from the U.S., Russia, UK, China and France join forces to fight an underground terrorist network.
Other Titles Being Viewed Right Now