One Piece Film Z - (2012) - Netflix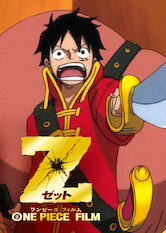 1h47m -
Action & Adventure
How To Unblock Every Movie & TV Show on Netflix No Matter Where You Are
1h47m -
Action & Adventure
Luffy and his gang save a disillusioned Navy admiral named Z who has one goal -- to slaughter every pirate in the world, including the Straw Hats.
Director:

Tatsuya Nagamine

Cast:

Kazuki Yao

,

Cho

,

Hiroaki Hirata

,

Kazuya Nakai

,

Ryoko Shinohara

,

Mayumi Tanaka

,

Akemi Okamura

,

Kappei Yamaguchi

,

Yuriko Yamaguchi

,

Hochu Otsuka

,

Ikue Otani

,

Teruyuki Kagawa

Netflix Rating:

7.9/5
Rotten Tomatoes Score:
NA
Countries Available in:

Not available where you live? Learn how to unblock Netflix & watch this title.

Available Since:
2022-04-16
Trailer:
Similar Titles:

Synopsis
A former Marine stands in the way of the Straw Hat Pirates.
Other Titles Being Viewed Right Now