黒執事 Book of the Atlantic - (2017) - Netflix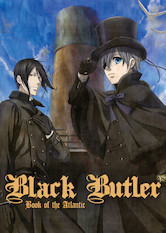 1h40m -
Action & Adventure
How To Unblock Every Movie & TV Show on Netflix No Matter Where You Are
1h40m -
Action & Adventure
Ciel and his demonic butler Sebastian board the luxury liner Campania in pursuit of the Aurora Society, whose medical research resembles necromancy.
Director:

Stephen Hoff

,

Noriyuki Abe

Cast:

Noriaki Sugiyama

,

Takuma Terashima

,

Maaya Sakamoto

,

Junichi Suwabe

,

Kenn

,

Jun Fukuyama

,

Daisuke Ono

,

Yukari Tamura

,

Bryn Apprill

,

Dawn Michelle Bennett

,

Justin Briner

,

Jessica Cavanagh

Netflix Rating:

7.7/5
Rotten Tomatoes Score:
0/100
Countries Available in:

Not available where you live? Learn how to unblock Netflix & watch this title.

Available Since:
2019-06-01
Similar Titles:

Synopsis
Whispers turn into screaming headlines in Earl Ciel Phantomhive's morning paper as word of the dead being resurrected takes society by storm. But when the unsavoury details of the business reach Ciel's ear, he and his superlative butler, Sebastian, book themselves on a luxury liner to look into these alleged miracles and the 'Aurora Society' conducting them. As the waters lap and crash all around the vessel, mysterious individuals gather under the banner of the 'Phoenix.' Ciel and Sebastian may be one step closer to the truth, but have they sealed their fates by conducting an investigation on what could easily become a floating coffin...?
Other Titles Being Viewed Right Now