You Were Never Really Here - (2017) - Netflix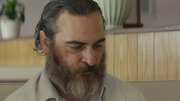 1h29m -
Independent Movies
How To Unblock Every Movie & TV Show on Netflix No Matter Where You Are
1h29m -
Independent Movies
An emotionally damaged veteran who makes a living by rescuing young women from sex traffickers is hired to save a politician's daughter.
Director:

Lynne Ramsay

Cast:

Alessandro Nivola

,

Joaquin Phoenix

,

Alex Manette

,

Judith Roberts

,

John Doman

,

Ekaterina Samsonov

,

Dante Pereira-Olson

,

Larry Canady

,

Vinicius Damasceno

Netflix Rating:

6.8/5
Rotten Tomatoes Score:
0/100
Countries Available in:

Not available where you live? Learn how to unblock Netflix & watch this title.

Available Since:
2019-11-02
Trailer:
Similar Titles:

Synopsis
A traumatized veteran, unafraid of violence, tracks down missing girls for a living. When a job spins out of control, Joe's nightmares overtake him as a conspiracy is uncovered leading to what may be his death trip or his awakening.
Other Titles Being Viewed Right Now