War for the Planet of the Apes - (2017) - Netflix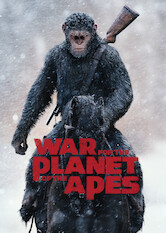 How To Unblock Every Movie & TV Show on Netflix No Matter Where You Are
2h20m -
Sci-Fi & Fantasy
Years after a lethal virus has wiped out most of humanity, a society of intelligent apes fights for their survival against an army of vengeful soldiers.
Director:

Matt Reeves

Cast:

Karin Konoval

,

Terry Notary

,

Judy Greer

,

Steve Zahn

,

Toby Kebbell

,

Michael Adamthwaite

,

Andy Serkis

,

Ty Olsson

,

Woody Harrelson

,

Gabriel Chavarria

Netflix Rating:

7.4/5
Rotten Tomatoes Score:
0/100
Countries Available in:

Not available where you live? Learn how to unblock Netflix & watch this title.

Available Since:
2019-07-01
Trailer:
Similar Titles:

Synopsis
Caesar and his apes are forced into a deadly conflict with an army of humans led by a ruthless Colonel. After the apes suffer unimaginable losses, Caesar wrestles with his darker instincts and begins his own mythic quest to avenge his kind. As the journey finally brings them face to face, Caesar and the Colonel are pitted against each other in an epic battle that will determine the fate of both their species and the future of the planet.
Other Titles Being Viewed Right Now