Sleepless - (2017) - Netflix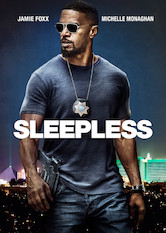 1h34m -
Action & Adventure
How To Unblock Every Movie & TV Show on Netflix No Matter Where You Are
1h34m -
Action & Adventure
A Las Vegas cop attempts to rob a drug shipment from a casino kingpin, but the heist goes horribly wrong, leading to the kidnap of his son.
Director:

Baran bo Odar

Cast:

Scoot McNairy

,

David Harbour

,

Octavius J. Johnson

,

Jamie Foxx

,

Dermot Mulroney

,

Gabrielle Union

,

T.I.

,

Michelle Monaghan

Netflix Rating:

5.6/5
Rotten Tomatoes Score:
0/100
Countries Available in:

Not available where you live? Learn how to unblock Netflix & watch this title.

Available Since:
2019-02-28
Trailer:
Similar Titles:

Synopsis
Vincent Downs is a cop in Las Vegas, who's partnered with a crooked cop. His partner asks him to steal some drugs, which they do. But what they don't know is that the drugs belong to a crime family, the Novaks who goes after anyone who crosses them. And Rob Novak the man who was handling the drug sale sets his sights on the man who sold him the drugs, casino boss Rubino. Rubino discovers Downs was the one who stole the drugs so he has Downs' son abducted and tells Downs to bring the drugs to his casino. Jennifer Bryant, an idealistic cop who wants to take down every criminal including the Novaks. Recently one her busts went bust and she did everything by the book. She thinks all the men are patronizing her. When she meets Downs she gets a vibe off of him and follows him. Downs brings the drugs to the casino and hides the drugs. Downs meets with Rubino and asks for his drugs. Downs wants his son first before he gives him the drugs. Rubino shows him his son and goes to get the drugs but Bryant finds the drugs and takes them. When Downs learns what she did he scrambles to find a way to save his son. And Novak needs the drugs desperately and goes after everyone especially Downs who is latter asisted by his wife and son to defeat these foes.
Other Titles Being Viewed Right Now