Sailor Moon S: The Movie - (1994) - Netflix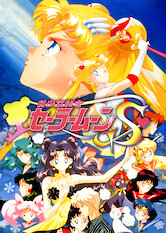 How To Unblock Every Movie & TV Show on Netflix No Matter Where You Are
59m -
Action & Adventure
Princess Snow Kaguya's plans to freeze the Earth are put on ice when a young astronomer finds part of her comet. The Sailor Soldiers must fight her!
Director:

Hiroki Shibata

Cast:

Emi Shinohara

,

Keiko Han

,

Eiko Masuyama

,

Kae Araki

,

Aya Hisakawa

,

Yasuhiro Takato

,

Toru Furuya

,

Kotono Mitsuishi

,

Rica Fukami

,

Michie Tomizawa

Netflix Rating:

7.7/5
Rotten Tomatoes Score:
0/100
Countries Available in:

Not available where you live? Learn how to unblock Netflix & watch this title.

Available Since:
2022-06-15
Similar Titles:

Synopsis
An unusual snow storm hits the town and the Sailor Scouts discover that an evil snow queen Kaguya, wants to freeze the entire earth. It's up to the Inner Sailor Scouts along with the Outers, to defeat the Queen. Meanwhile, Luna falls in love with a human astronomer named Kakeru whose girlfriend is an astronaut about to take a space shuttle mission. Kakeru becomes ill and Luna wishes she could be a human to help him.
Other Titles Being Viewed Right Now