Dino Time - (2015) - Netflix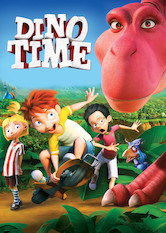 1h25m -
Children & Family
How To Unblock Every Movie & TV Show on Netflix No Matter Where You Are
1h25m -
Children & Family
A time machine whisks rambunctious Ernie, his sister Julia and best friend Max to prehistoric Earth and a chance encounter with a mother T-Rex.
Director:

Yoon-suk Choi

,

Choi Yoon-suk

,

John Kafka

Cast:

William Baldwin

,

Tara Strong

,

Jane Lynch

,

Rob Schneider

,

Melanie Griffith

,

Stephen Baldwin

,

Pamela Adlon

,

Yuri Lowenthal

Netflix Rating:

4.7/5
Rotten Tomatoes Score:
0/100
Countries Available in:

Not available where you live? Learn how to unblock Netflix & watch this title.

Available Since:
2019-12-31
Similar Titles:

Synopsis
Three curious kids accidentally trip an egg-shaped time machine into operation and find themselves back 65 million years in the middle of a nest of dinosaur eggs. The first thing they see is a giant T-Rex staring down at them in happy wonder. They're not food, they're family! Now the kids have just until the real eggs hatch to find their way back to the present, facing other prehistoric monsters and dangers along the way.
Other Titles Being Viewed Right Now