Exit Strategy - (2012) - Netflix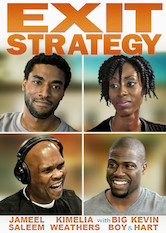 1h19m -
Comedies
When James's living situation turns sour, he has little choice but to move in with his new girlfriend -- a decision he almost immediately regrets.
Director:

Michael Whitton

Cast:

Kimelia Weathers

,

Sid Burston

,

Nick Sinise

,

Jameel Saleem

,

Quincy Harris

,

Noelle Balfour

,

Carlos Castillo

,

Big Boy

,

Misty Alli

,

Kevin Hart

,

Liz Hernandez

Netflix Rating:

3.4/5
Rotten Tomatoes Score:
0/100
Countries Available in:

Not available in your region? Sign up for ExpressVPN to unblock Netflix!

Available Since:
2019-03-03
Trailer:
Similar Titles:

Synopsis
Evicted from his apartment, James has to move in with his girlfriend of 3 months. He quickly discovers that she's everything he never wanted in a woman. His only option is to get her to break up with him -- but still let him sleep on the couch.
Other Titles Being Viewed Right Now