Crows Zero - (2007) - Netflix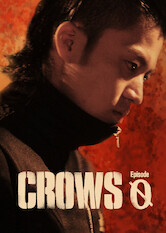 2h9m -
Action & Adventure
How To Unblock Every Movie & TV Show on Netflix No Matter Where You Are
2h9m -
Action & Adventure
Genji, a gangster's son, enrolls in a violent high school where he sets out to fight his way to dominance and unite the school's gangs under his rule.
Director:

Takashi Miike

Cast:

Kyosuke Yabe

,

Takayuki Yamada

,

Goro Kishitani

,

Sansei Shiomi

,

Motoki Fukami

,

Meisa Kuroki

,

Kenichi Endo

,

Shun Oguri

,

Suzunosuke

,

Shunsuke Daitoh

,

Kaname Endo

,

Takashi Miike

Netflix Rating:

7.1/5
Rotten Tomatoes Score:
NA
Countries Available in:

Not available where you live? Learn how to unblock Netflix & watch this title.

Available Since:
2020-08-23
Similar Titles:

Synopsis
The Suzuran Senior High School for Boys, nicknamed 'The School of Crows', is the poorest achieving, most violent school in the country. The students are called 'crows' and they band together in factions, battling each other for influence and power. But they all share a common goal, one that has never been reached in the school's history: unification. No one faction has ever reigned supreme. Genji Takiya, a transfer student who attempts to take over Suzuran Boys High School and is mentored by old boy yakuza Katagiri as he faces off against rival Serizawa.
Other Titles Being Viewed Right Now