Scorpion - (2007) - Netflix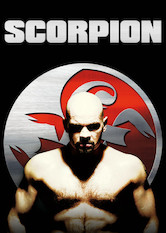 1h34m -
Action & Adventure
How To Unblock Every Movie & TV Show on Netflix No Matter Where You Are
1h34m -
Action & Adventure
Following a six-year incarceration for accidentally killing a man in a street fight, washed-up Thai boxer Angelo emerges from his prison cell a broken man, desperately searching for a way to shed his demons and redeem himself.
Director:

Julien Seri

Cast:

Clovis Cornillac

,

Tadrina Hocking

,

Francis Renaud

,

Caroline Proust

,

Karole Rocher

,

Philippe Bas

,

Jerome Le Banner

,

Titouan Laporte

,

Olivier Marchal

Netflix Rating:

5.5/5
Rotten Tomatoes Score:
0/100
Countries Available in:

Not available where you live? Learn how to unblock Netflix & watch this title.

Available Since:
2019-09-01
Similar Titles:

Synopsis
Featuring a mix of Thai Boxing and Ultimate Fighting, SCORPION has been dubbed The French Fight Club. It stars Jerome Le Banner, who is also known as Hyper Battle Cyborg and The Bulldog of Paris, a true kickboxer, famous for his aggressive style - 43 of his 57 wins have come by knockout.
Other Titles Being Viewed Right Now