One Piece: Episode of Alabasta - The Desert Princess and the Pirates - (2007) - Netflix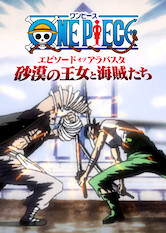 1h29m -
Action & Adventure
How To Unblock Every Movie & TV Show on Netflix No Matter Where You Are
1h29m -
Action & Adventure
Revolution is brewing in the desert country of Alabasta, but the Straw Hats and Princess Vivi know the truth: it's all a plot cooked up by Crocodile.
Director:

Takahiro Imamura

Cast:

Ikue Otani

,

Akemi Okamura

,

Yuriko Yamaguchi

,

Kappei Yamaguchi

,

Mayumi Tanaka

,

Kazuya Nakai

,

Hiroaki Hirata

,

Ryuzaburo Otomo

,

Misa Watanabe

,

Charles Baker

,

Troy Baker

,

Anthony Bowling

,

Luci Christian

Netflix Rating:

7.1/5
Rotten Tomatoes Score:
NA
Countries Available in:

Not available where you live? Learn how to unblock Netflix & watch this title.

Available Since:
2022-02-15
Trailer:
Similar Titles:

Synopsis
In a retelling of the Arabasta Episodes. The Straw Hat Pirates are helping Vivi save her kingdom from being destroyed by a set up war. Which all began when the first drought occurred 3 years ago. All thanks to the secret organization call Baroque Works. Lead by Mr. 0 who's identity was unknown until Vivi revealed it to the StrawHat Pirates. And they all agreed to eliminate this criminal group in order to restore peace to the desert kingdom. But it's going to be a rough battle against Mr. 0, the Officer Agents, Millions Agents, and Billions Agents.
Other Titles Being Viewed Right Now