Bal Ganesh - (2007) - Netflix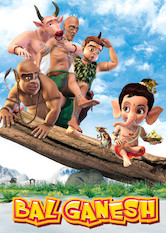 How To Unblock Every Movie & TV Show on Netflix No Matter Where You Are
1h41m -
Indian Movies
From his acts of bravery to his mischievous antics, the early years of elephant-headed Hindu deity, Lord Ganesha, come alive in this musical animation.
Director:

Pankaj Sharma

Cast:

Rajnika Ganguli

,

Jitendra Jaiswal

,

Adarsh Gautam

,

Mihir Chakraborty

,

Namrata Sawhney

,

Jai Prakash Singh

,

Ashar Shaikh

Netflix Rating:

7.1/5
Rotten Tomatoes Score:
0/100
Countries Available in:

Not available where you live? Learn how to unblock Netflix & watch this title.

Available Since:
2019-06-15
Similar Titles:

Synopsis
Bal Ganesh is the story of the elephant headed God, Lord Ganesh's childhood. The story centers around the exploits of Lord Ganesh, his companion Mooshak, the mouse and their innumerable adventures. From the birth of Lord Ganesha to the depiction of Ganesh's voracious appetite at Kuber's feast, almost every funny event from his childhood has been portrayed in the film.
Other Titles Being Viewed Right Now