Little Ghost - (1997) - Netflix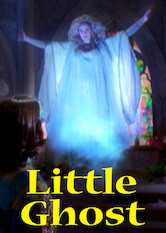 1h30m -
Children & Family
How To Unblock Every Movie & TV Show on Netflix No Matter Where You Are
1h30m -
Children & Family
On location with his movie-star mom and her annoying boyfriend in a medieval castle, a 12-year-old boy encounters its young ghostly resident.
Director:

Linda Shayne

Cast:

Jameson Baltes

,

Trishalee Hardy

,

Sally Kirkland

,

Kristina Wayborn

,

Luc Leestemaker

,

Donald MacKenzie

,

Florin Chiriac

,

Jim Fitzpatrick

,

Rudy Rosenfeld

,

Laura Bruneau

Netflix Rating:

8.0/5
Rotten Tomatoes Score:
0/100
Countries Available in:

Not available where you live? Learn how to unblock Netflix & watch this title.

Available Since:
2019-04-17
Similar Titles:

Synopsis
The successful and wealthy TV actress Christine moves from Los Angeles to a small town in Romania with her son Kevin, her fiance Tony and her assistant Joanne to buy an old castle and construct a SPA following Tony's advice. Kevin does not like Tony and misses his friends that were left behind, but befriends the castle administrator Pavel. Soon Kevin encounters the ghost Sofia, who takes care of the castle that belonged to her family, and they become best friends. They discover that Tony has a love affair with Joanne and they are spending the money of Christine. Further, Sofia is getting weaker and weaker with the destruction of the castle. Now their only hope is to summon Sofia's mother to help her daughter to save the castle, but the spell is not working. Will Sofia vanish and the castle be totally destructed?
Other Titles Being Viewed Right Now