New Police Story - (2004) - Netflix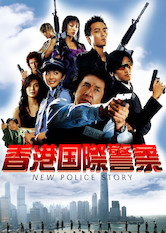 2h2m -
Action & Adventure
How To Unblock Every Movie & TV Show on Netflix No Matter Where You Are
2h2m -
Action & Adventure
A self-pitying Hong Kong cop plagued by survivor's guilt is spurred back into action by a young rookie partner with a troubled history.
Director:
-
Cast:

Charlie Yeung

,

Nicholas Tse

,

Jackie Chan

,

Charlene Choi

,

Yi Chiang

,

Hayama Go

,

Daniel Wu

,

Dave Wong

,

Mak Bau

,

Tak-Bun Wong

Netflix Rating:

7.0/5
Rotten Tomatoes Score:
0/100
Countries Available in:

Not available where you live? Learn how to unblock Netflix & watch this title.

Available Since:
2019-07-20
Similar Titles:

Synopsis
Inspector Wing of the Hong Kong Police Force has become the victim of a gang, led by the evil Joe. When his entire team is killed, Wing becomes a hapless drunk, feeling guilty for the deaths of his team. A young man with a troubled past pretends to be a police officer working on the case with Wing, to get him back on his feet and begin an adventure to get revenge on the evil Joe and his Gang of Five, especially when it becomes personal.
Other Titles Being Viewed Right Now