X-Men 3: The Last Stand - (2006) - Netflix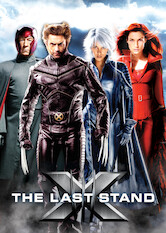 1h44m -
Comic Book and Superhero Movies
How To Unblock Every Movie & TV Show on Netflix No Matter Where You Are
1h44m -
Comic Book and Superhero Movies
When scientists develop a drug to treat unwanted mutations, Professor Charles Xavier and the X-Men must battle a group known as the Brotherhood.
Director:

Brett Ratner

Cast:

Kelsey Grammer

,

Aaron Stanford

,

Ellen Page

,

Ben Foster

,

Halle Berry

,

Famke Janssen

,

Cameron Bright

,

Rebecca Romijn

,

Vinnie Jones

,

James Marsden

,

Anna Paquin

,

Ian McKellen

,

Patrick Stewart

,

Hugh Jackman

Netflix Rating:

6.7/5
Rotten Tomatoes Score:
0/100
Countries Available in:

Not available where you live? Learn how to unblock Netflix & watch this title.

Available Since:
2019-07-01
Trailer:
Similar Titles:

Synopsis
When a cure is created, which apparently can turn any mutant into a normal human being, there is outrage amongst the mutant community. Whilst some mutants do like the idea of a cure, including Rogue, many mutants find that there shouldn't be a cure. Magneto, who still believes a war is coming, recruits a large team of mutants to take down Warren Worthington II and his cure. Might seem easy for the X-Men to stop, but Magneto has a big advantage, which Wolverine doesn't have. Jean Grey has returned, and joined with Magneto. The Phoenix has woken within her, which has the ability to destroy anything in her way, even if that 'anything' is a X-Men.
Other Titles Being Viewed Right Now