The Blue Lamp - (1950) - Netflix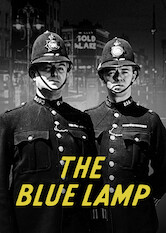 How To Unblock Every Movie & TV Show on Netflix No Matter Where You Are
1h24m -
Classic Movies
This classic thriller focuses on interrelated episodes in the lives of several London policemen, including veteran bobby George Dixon.
Director:

Basil Dearden

Cast:

Jack Warner

,

Jimmy Hanley

,

Dirk Bogarde

,

Robert Flemyng

,

Bernard Lee

,

Peggy Evans

,

Patric Doonan

,

Bruce Seton

,

Meredith Edwards

,

Clive Morton

,

Dora Bryan

,

Gladys Henson

,

Tessie O'Shea

Netflix Rating:

6.9/5
Rotten Tomatoes Score:
NA
Countries Available in:

Not available where you live? Learn how to unblock Netflix & watch this title.

Available Since:
2021-12-01
Trailer:
Similar Titles:

Synopsis
We follow the daily activities of two London bobbies veteran Police Constable George Dixon (Jack Warner) and rookie Police Constable Andy Mitchell (Jimmy Hanley). Meanwhile young hoods Tom (Sir Dirk Bogarde) and Spud (Patric Doonan) plan a series of robberies with Tom's girl Diana (Peggy Evans) a discontented beauty as an inside worker. But in their second crime one of our heroes is shot setting off a citywide manhunt. The killer is clever but will he outsmart himself?
Other Titles Being Viewed Right Now