The Cincinnati Kid - (1965) - Netflix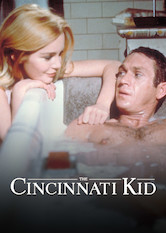 How To Unblock Every Movie & TV Show on Netflix No Matter Where You Are
1h42m -
Classic Movies
In Depression-era New Orleans, cocksure stud poker player Eric Stoner -- the titular Cincinnati Kid -- challenges longtime champ Lancey 'The Man' Howard to a showdown at the table, where a war of wills -- and nerve -- ensues.
Director:

Norman Jewison

Cast:

Cab Calloway

,

Jack Weston

,

Theo Marcuse

,

Joan Blondell

,

Steve McQueen

,

Ann-Margret

,

Karl Malden

,

Jeff Corey

,

Rip Torn

,

Tuesday Weld

,

Edward G. Robinson

Netflix Rating:

7.3/5
Rotten Tomatoes Score:
0/100
Countries Available in:

Not available where you live? Learn how to unblock Netflix & watch this title.

Available Since:
2019-11-01
Trailer:
Similar Titles:

Synopsis
In 1930s New Orleans, the Cincinnati Kid, a young stud poker player who travels from one big game to the next, stopping along the way up with various girls, is pitted against the legendary champion card-sharp Lancey Howard in a high-stakes poker game.
Other Titles Being Viewed Right Now