Demons of the Mind - (1972) - Netflix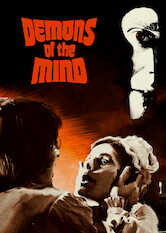 How To Unblock Every Movie & TV Show on Netflix No Matter Where You Are
1h29m -
Classic Movies
In this gothic horror film, a deranged baron locks his grown children in a castle and drugs them to protect them from a curse they may have inherited.
Director:

Peter Sykes

Cast:

Robert Hardy

,

Shane Briant

,

Gillian Hills

,

Yvonne Mitchell

,

Paul Jones

,

Patrick Magee

,

Kenneth J. Warren

,

Michael Hordern

,

Robert Brown

Netflix Rating:

5.4/5
Rotten Tomatoes Score:
NA
Countries Available in:

Not available where you live? Learn how to unblock Netflix & watch this title.

Available Since:
2021-12-01
Trailer:
Similar Titles:

Synopsis
Baron Zorn keeps his teenager children Elizabeth and Emil locked up and drugged fearing that his insane wife passed along a congenital curse to them before her own suicidal death. Elizabeth escapes for a brief tryst with a local before being recaptured and subjected to a bleeding process to "draw out the bad blood". Emil keeps trying to escape but is thwarted time and again by his aunt Hilda who runs the house like a prison. One reason the siblings have to be kept apart is their incestuous attraction to each other. Local wenches are being murdered in the woods and the superstitious peasants think demons are responsible. A wandering priest dedicates himself to root out the evil but isn't taken seriously. Arriving at the castle are two more interested parties: Mountebank scientist huckster Falkenberg stands to make a small fortune if his strange apparatus can cure the children of their inherited evil. Carl simply wants to rescue Elizabeth. As more murders mount Falkenberg enlists village lass Inge to play the dead mother in a psycho-drama that he hopes will shock the children from their morbid state; but Baron Zorn's symptoms of derangement soon make it obvious that the doctor is treating the wrong patient.
Other Titles Being Viewed Right Now